See our FACEBOOK page for current media and news
https://www.facebook.com/Bromyard-Tae-Kwon-Do-576601959094313/
Worcester News
Huge medal haul for Bromyard at NITA Tae Kwon Do English Championships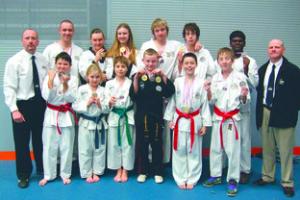 Bromyard Schools of Tae Kwon Do shared 20 medals between 12 students at the NITA Tae Kwon Do English Championships.
And there was extra cause for celebration as this was the first time the squad had competed together this year.
Results were:Thomas Everard - Silver, Patterns; Gold, Point Stop Sparring; Gold, Continuous Sparring; Ashley Clayton - Silver, Patterns; Silver, Continuous; Gold, Points; Andy Clayton - Silver, Points; Silver, Continuous; Elliot McDonald - Silver, Points; Silver, Continuous; Taylor Merrick - Silver, Points; Bronze, Continuous; Jack Coleman - Bronze, Points; Silver, Continuous; Toby Coleman - Gold, Continuous; Hannah Robinson - Gold, Patterns; Emily Everard - Gold, Points; Kit Chilvers - Silver, Points; Selvan Thamizh - Silver, points; Maddie Howard - Bronze, Continuous
Bromyard club collects more black belts
BROMYARD School of Tae Kwon Do ended the year with yet more Black belt students after another successful year.
In November, the club welcomed Master Lorenzo Cabellero once more to their centre of excellence at The Malvern Martial Arts Centre to conduct the official annual Black Belt testing and Seminar.
All the students performed to an exceptional standard and earned recognition for their efforts.
Nick Osborne (Worcester Instructor) achieved 3rd Degree while his students Charlotte Haynes and Luke Alexander gained 1st Degree.
Martley student Peter Hawkins and Malvern students Madeline Howard, Hannah Robinson and Dr Mark Robinson also gained 1st Degree.
There are now more than 25 world-recognised Black belts within the group.
More than 150 students train regularly and the club continues to teach a very high standard of traditional Tae Kwon Do through the Herefordshire and Worcestershire areas.
Bromyard club members scoop Black Belt
MEMBERS of Bromyard Tae Kwon Do achieved the highest prize in the sport by receiving black belts.
Jamie Smith, Matthew Loader, Shane Steyn, Robert Scott and Martin Bennett all received first Dan recognition, whilst Nicky Rawle, Eddie Burton and Kirsty Russell became second Dans.
This brings a total of 23 black belts within the group
Julian earns his promotion to 4th Dan
AUTUMN has got off to a good start for Bromyard School of Tae Kwon Do with its head instructor being promoted to 4th Dan level.
Julian Burton was tested under Chung Do Kwan senior Grandmaster Pan with excellent results in a display of set moves, patterns and sparring.
The grading came in the shadow of the school's main Black Belt testing due in October where, if the candidates are successful, it will bring the total to 24 black belts within the club.
Bromyard Tae Kwon Do prides itself in teaching traditional style Tae Kwon Do seven days a week ,offering classes all over the county.
With more than 150 students, many being complete families, they offer quality tuition in a very friendly atmosphere.
Bromyard students are belting up
BROMYARD School of Tae Kwon Do have kicked off the new year with more succes
Four students have been promoted to black belt level and two instructors achieved second degree standards.
The club have 19 black belts and offer tuition to students from five years upwards.
Bromyard originally started 20 years ago and now boast more than 100 members
14/10/05 - Black belt success for Bromyard
Bromyard
School of Tae Kwon Do has a lot to shout about after another successful seminar and black belt testing early this month.
The club, which has classes in Bromyard, Malvern and Worcester, added two new black belts to its 11 strong instructors, both earning junior black belt status under the masters of the Chung Do Kwan.
Master Pan (7th Dan) and Master Caballero (5th Dan) headed the grading with Joe Rawle (4th Dan) and Julian Burton (3rd Dan) being invited to view this gruelling test of ability, precision and co-ordination with the masters demanding the highest standards at all times.
The grading was especially important to head instructor Julian Burton as his own son, Edward, passed his junior black belt at the age of ten after training since he was four years old.
The black belts who were promoted were Andrew Merrick 4th Dan (one of Julian Burton's original instructors), Neil Witts 2nd Dan, Joshua Brodie 1st Dan and Edward Burton 1st Dan.
Bromyard Tae Kwon Do prides itself in teaching a traditional style and providing top quality tuition from the age of four to mainstream classes with no age limit.
3/12/04 - Tae Kwon Do students collect black belts at Seminar
IT was a proud moment for Bromyard
School of Tae Kwon Do head instructor Julian Burton when three of his students were presented with their black belts on Sunday.
The students, all originally from Leigh Sinton, were presented with their belts by Master S W Pan 7th Dan and technical advisor of the Chung Do Kwan Society.
Mr Burton said: "I was very proud as these three were the first through the door when I opened my first Tae Kwon Do club at Leigh and Bransford village hall.
"They have come a long way after four years of hard work and thoroughly deserve their awards."
The presentations were made at the Bromyard club's second annual all-day seminar held at Bromyard Leisure Centre that attracted nearly 100 martial art enthusiasts.
Belt grading took place all day Saturday and several other martial arts clubs and styles, including kick-boxing, attended the Sunday seminar.
Also present at the seminar was Mr Caballero, 5th Dan, founder and chief instructor of the Chung Do Kwan discipline.
15/10.04 - Tae Kwondo students off to Dublin
MEMBERS of the
Bromyard
Tae Kwondo Club are preparing to do battle in a World championship event in Dublin.
Thirty-five members of the group are jetting off to the Irish capital to compete in the Action International Martial Arts Association championships over the weekend.
The competitors hail from Bromyard, Malvern and Worcester and each one has won a gold medal in the sport over the past year.
"We are very hopeful that the championships will result in success for us," said group leader Julian Burton.
"It has been a phenomenal year for us so far."
25/7/03 - Bromyard win in style
Bromyard
School of Tae Kwon Do made its mark recently at the WMST open championship in Cheltenham.
Eleven students entered and...eleven trophies were won. They included gold and silver on the same fighting mats in two separate bouts.
This was the school's first point-stop challenge since affiliating to the Chung Do Kwan Society - and they certainly did it in style!
The school says it has classses in both the Bromyard and Malvern areas and prides itself in training students to the best of their ability.